Parks & Rec
The Blue Lake Ranch Inn is conveniently located near many of the must see and experience Parks & Rec of the Four Corners area. Our Inn is just a short drive from Mesa Verde National Park, The Ute Mountain Tribal Park, La Plata Mountain hiking trails and much more. Whether you are in need of a bit of excitement or interested in the history of mysterious Native American Tribes, we have easy access to it all.
Reservations
Reserve your Durango, Colorado vacation today! Choose from 16 beautiful lodging options.
Book Now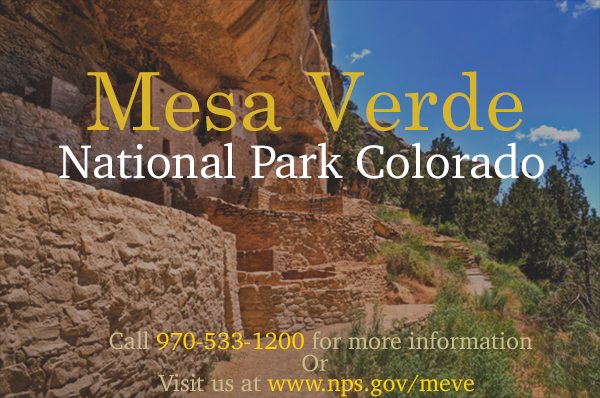 Mesa Verde National Park
Just 30 minutes from the ranch, Mesa Verde National Park is considered the top historic site for Ancient Pueblo an dwellings in the United States. Pick up a picnic lunch from Absolute Bakery in Mancos on the way and plan on spending the day at The Park.
Call: 970-533-1200
Website: www.nps.gov/meve
The Ute Mountain Tribal Park
Probably the area's best-kept secret, this Ute Mountain Indian owned and operated private park is six times larger than Mesa Verde and contains some incredible archaeology sites, left just as they were found. You must go into the park with an Indian guide, which makes the adventure even more special. The east entrance to the park is just sixteen miles from the ranch, and the guides are happy to meet our guests there at around 10:00 am. The tour is usually over around 3:00 pm. We recommend taking a picnic lunch and water.  If you make reservations before your arrival be sure to mention you want to go in "The East Gate".
Call: 970-565-3751
Website: www.utemountaintribalpark.info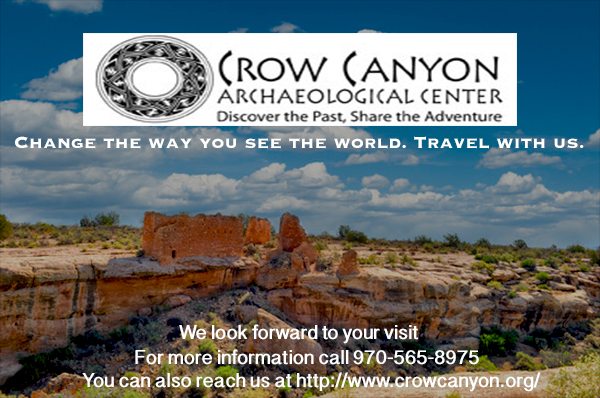 Crow Canyon Archeological Center
Have you ever wanted to be an archeologist for a day? The Crow Canyon Archeological Center can make your wish come true. Other archeological sites, the Aztec, Hovenweep, Lowrey, and Salmon Ruins are all less than an hour from the ranch. At most sites, you'll see very few other visitors.
Call: 970-565-8975
Website: www.crowcanyon.org
Heading to Moab?
If you are heading to Moab be sure to visit our friends at Sorrel River Ranch, southern Utah's only Four Diamond Resort. The resort has been featured in a variety of travel magazines and is beloved by every guest. It is located near Moab and various other local attractions Trust us, you will not be disappointed!
Call: 1-877-359-2715
Website: www.discovermoab.com
Hiking
We are proud to provide our guests with the unique experience of being on a 200 acre property. Because of this, there are plenty of places to hike right on the ranch. There is a perfect little path near the La Plata River that stretches for two miles which makes for an easy day hike. Also, the ranch is just minutes from mountain hiking in the La Plata Canyon and along the Colorado Trail. These are just a few examples of the wonderful nature walks and hikes you can chose from on or near the property. If you have any questions please feel free to call.
Call: 970-385-4537
Kling Mountain Guides
Embrace the spirit of the outdoors! Test your Rock climbing skills and ability on the La Plata Mountains. Take it a step further by mountaineering and finding your grit in the elements. Manage your way down the untamed mountain while you backcountry ski through uncharted terrain. Adventure is waiting.
Call: 970-259-1708
Website: www.klingmountainguides.com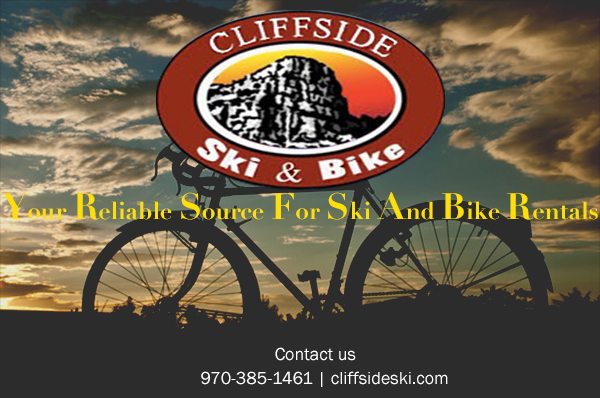 Biking
Mountain and road bikes are available for rent in Durango, and there are many world-class trails and routes to bike in the area. You can also enjoy the beauty and serenity of farm roads near the ranch and up La Plata Canyon. Start renting today for an incredible rate!
Cliffside Ski &Bike
Call: 970-385-1461
Website: www.cliffsideski.com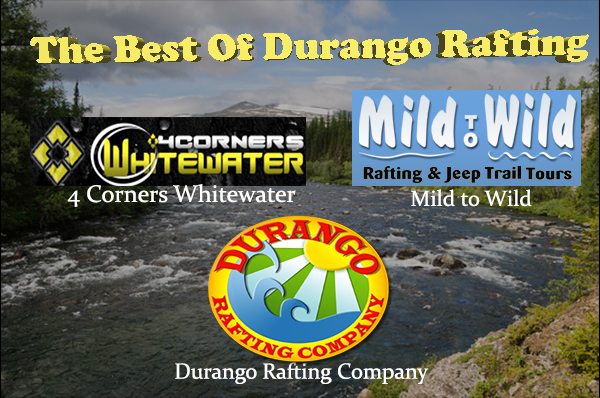 Rafting
Seasonally available. Rafting can be a great family activity to bring you closer together as a group. It is also a good way to see the area from a new perspective. You will go out with trained professionals who know how to navigate the ins and outs of the river while you enjoy the thrill of rushing through wild waters! Start planning your next rafting adventure today!
4 Corners Whitewater
Call: 970-259-4608
Website: www.raftingdurango.com
Mild to Wild Rafting
Call: 970-247-4789
Website: www.mild2wildrafting.com
Durango Rafting Company
Call: 970-257-2252
Website:  durangoraft.com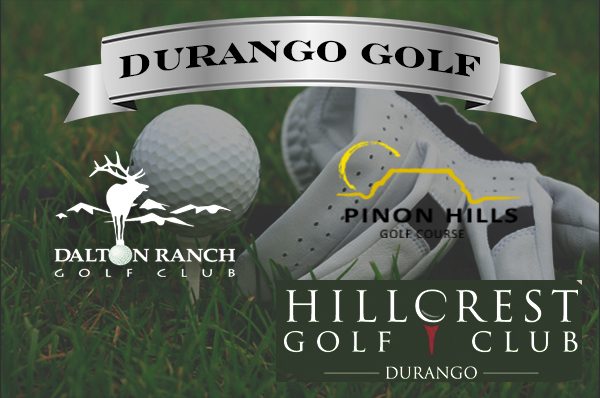 Golf
Public courses in the Durango area.
Dalton Ranch Gold Club
Call: 970-247-8774
Website: www.daltonranch.com
Hillcrest Gold Club
Call: 970-247-1499
Website: www.golfhillcrest.com
Pinon Hills Golf Course
Forty minutes south of the Ranch lies Pinon Hills Golf Course in Farmington, New Mexico. Our guests rave about the 18-hole course, recognized by Golf Magazine as one of the top public courses in the country.
Call: 505-326-6066
Website: www.pinonhillsgolf.com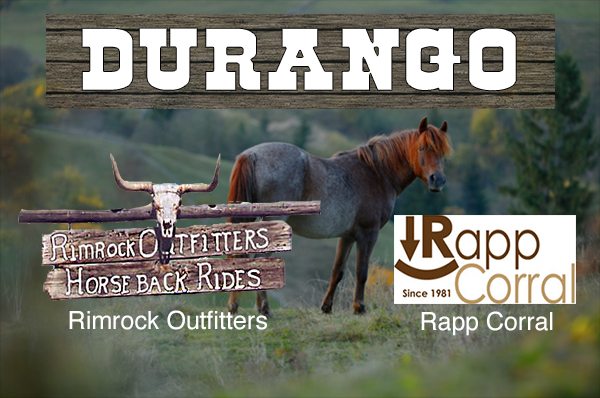 Horseback Riding
Durango is an absolutely gorgeous area no matter what time of the year you visit. Now you can go out and see it on the back of a majestic and beautiful horse with these experienced horseback riding companies.
Rimrock Outfitters
Call: 970-533-7588
Website: www.rimrockoutfitters.com
Rapp Corral
Call: 970-247-8454
Website: www.rappcorral.com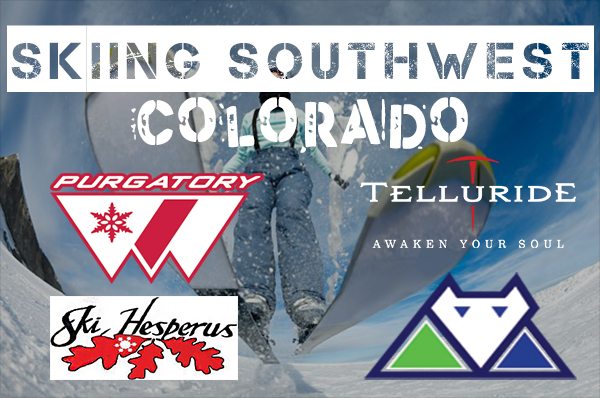 Skiing
Winter offers a large variety of activities including some of the area's best skiing. Guests enjoy cross country skiing on the ranch. We are close to cross country ski trails open to the public. Downhill skiers can enjoy the family-friendly Hesperus Ski Hill seven miles away or the larger resorts of Durango Mountain Resort/Purgatory, Wolf Creek, and Telluride.
Purgatory and Durango Mountain Resort
Call: 970-247-9000
Website: www.durangomountainresort.com
Wolf Creek Ski Area
Call: 970-264-5639
Website: www.wolfcreekski.com
Ski Hesperus
Call: 970-259-3711
Website: www.ski-hesperus.com
Telluride Ski Resort
Call: 1-866-754-8355
Website: www.tellurideskiresort.com
Need More information
We would love to help you make the best decision for your budget and needs
Call Now